Family owned and operated, Fun Inflates has been proudly offering bounce house rentals, water slide rentals, party supplies and concessions to our customers in Statesboro, GA and surrounding areas for over 15 years. What sets us apart from the competition is our:
Huge selection of bounce houses, including popular themes and characters.
All bounce houses and supplies are thoroughly cleaned & disinfected prior to delivery/set up.
Friendly, professional setup and pickup of inflatables and party supplies.
Free delivery & pickup within 45 miles of Statesboro, GA (up to 75 miles with a small delivery fee)
We also offer rental of tables, chairs, popcorn machines, cotton candy machines, snow cone machines and party supplies.
Every Saturday rental includes Sunday for FREE!
Inflatables are a perfect addition for children's birthday parties, family picnics, school events, church events, Corporate outings, and anywhere there are fun-loving guests.
We strive to make your party or event a wonderful and memorable experience for you and your guests!
Every Saturday rental includes Sunday for FREE!
Wet or dry use. Best suited for older kids & adults.
Wet or dry use. Best suited for older kids & adults.
Bounce Houses With Slide Combo
Wet or dry use. Best suited for ages 10 & under.
Dry use only. Best suited for ages 6 & under.
Concessions & Party Supplies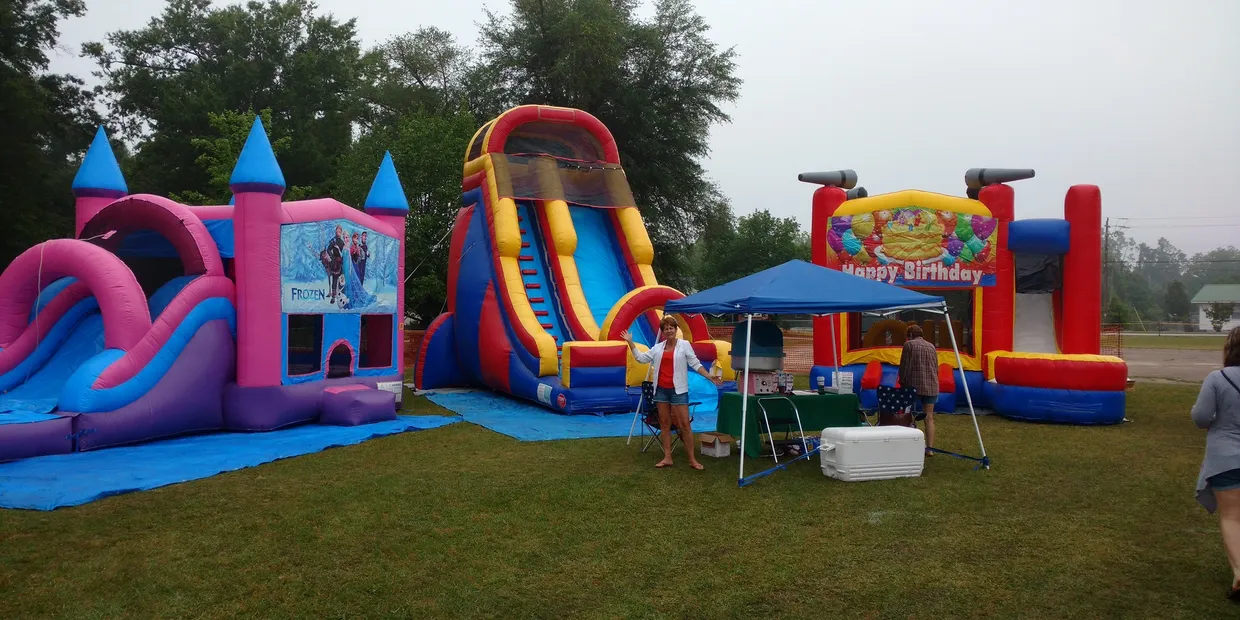 100% recommend.
"For one the cheapest I have come across! Second very professional ! And they do not try to rip you off any of the time you booked it for ! Sometimes is even able to give you alittle bit more time ! We have used them for the past 2 yrs and will again be using them in July this yr ! We book every year for my youngest daughters birthday ! We get the bounce house /water slide combo which can be used wet or dry! And the slides/bounce house are always always very clean !!!!! No complaints !"
~ Lori McCallum
Amazing company to rent from!
"Definitely will recommend and will do business again! I have done business with them twice and both times was worth my money!"
~ Crystal Scott
Best around!!
"David is on spot with providing excellent customer service. He puts his customers first and works proficiently to meet their needs. He has up to date inflatables that suits all age groups. The equipment is clean and well maintained.  Give him a call for your next event!!"
~ Carla Torrence
How safe are bounce houses and/or Inflatables?
What size Inflatable is best for my event?
Each unit will come with specific height & weight limits.
As a general rule though, our basic bounce houses are approximately 15 feet by 15 feet and can typically hold 6-8 jumpers at once. These are best suited for smaller children, 6 years and under. 
Our bounce house with slide combo units are suitable for slightly older children, up to 10 years old. The bounce house can accommodate several children at once, while the slide should only have 1 rider at a time. 
Our largest units can accommodate children and adults alike. The slides and obstacle courses should be limited to 1 occupant per lane. 
When in doubt, just give us a call and ask! Our #1 goal is to make certain that every guest has a fun and memorable experience at your event. 
Where can the inflatable be set up? How much room will I need?
How does the bounce house stay inflated?
What time do you drop off and pick up the bounce house?
Do the popcorn, cotton candy and snow cone machines come with supplies?